As we all know, 2017 has been quite the year. But in spite of the constant onslaught of bad news, on the lighter side, there were some memorable red carpets looks. Like I do annually, here's a look-back at some of the year's most impressive or talked-about style moments. Celine Dion, Tracee Ellis Ross, Nicole Kidman and (my girl) Cindy Crawford all had a solid style year. 
Tracee Ellis Ross in Zuhair Murad
Golden Globes – January
Photo credit: Frazer Harrison/Getty  via usmagazine.com
The super funny comedian became a style maven this year. She nailed it one look after another. In January, she stunned us in this sleeveless silver column gown. Loved the embroidered detail and the look was well styled too. The pulled- back hair and simple accessories (except for those killer diamond rings) were perfect.
Nicole Kidman in Alexander McQueen
Golden Globes – January
Photo credit: Venturelliu/WireImage via usmagazine.com
Kidman also had a huge year and she killed it on the red carpet throughout 2017. She started off the year in this stunning and intricate McQueen gown. Few stars could pull this look off but Nicole does it well. There's a lot going on with this dress but it has a 1920s vibe (think Gatsby) that I love. The detail and beading are incredible.
Evan Rachel Wood in Custom Altuzarra
Golden Globes – January
Photo credit: Steve Granitz/WireImage via usmagazine.com
Woods spent the year in pants on the red carpet and she couldn't have done it better.  I've said often before how great women look in tuxedos on the red carpet and Wood's definitely proved my point. The cut of this Altuzarra suit is perfect, and I love a blouse tied in a bow at the neck – so feminine (and fancy). YSL introduced and perfected this androgynous look in 1966 (read here for more) and it remains timeless.
Pharrell in Chanel
Golden Globes – January
Photo via upscalehype.com
Pharrell looks cool no matter what he wears. And this outfit, featuring select pieces from Chanel's Pre-Fall Paris-Bombay Métiers d'Art show in 2012 (click here to see), is no exception. It's daring – and awesome. And I really want that Chanel beanie. I saw Pharrell at Hotel Americano in NY and he's as cool looking in real life as you'd think.
Cindy Crawford in Balmain
Image Maker Awards – January
 Photo credit: Getty Images) via yahoo.com/lifestyle
The legendary and iconic supermodel also had a big year in terms of red carpet appearances and we saw more of her than we have in years. Of course, being that she's Cindy Crawford, she looks better than ever and seems to have perfected that thing we call "aging." Her stylist Karla Welch dressed her well throughout the year, beginning with this chic and sexy long-sleeved slightly sheer Balmain gown. Cindy wore it beautifully.
Nicole Kidman in Gucci
SAG Awards – January
Photo credit: Jeff Kravitz/Film Magic
Hands-down one of the best dresses of year. The emerald green sequins, the ruffled draping at the sides and the parrot embellishment on the shoulders (complete with feathers) – incredible. It was a polarizing dress but this is also what makes watching fashion fun. The look reminded me of when Kidman consistently wore unforgettable dresses every time she appeared on the red carpet in the early to mid-2000s. Remember the game-changing dress she wore to the Oscars in 1997?
Celine Dion in Zuhair Murad Couture
Grammys – February
Photo credit: Jon Kopaloff/FilmMagic via usmagazine.com
2017 was a major year for Dion – she became a fashion star. She wowed us on many red carpets including her amazing looks during Paris Fashion Week. For her first major public appearance of the year, she stunned in this low-cut, high slit, long sleeve emerald crystal embellished gown. Loved the slicked back hair and the jewels.
Janelle Monáe in Elie Saab Couture
Oscars – February
Photo credit: Kevin Mazur/Getty via usmagazine.com
Monáe is always an interesting one to watch on the red carpet and she killed it in this incredibly elaborate Ellie Saab gown at the Oscars. This is what couture is all about. Marie Antoinette comes to mind as well. Loved how the look was accessorized with the choker and headpiece.
Celine Dion in Christian Siriano
Beauty And The Beast Premiere – March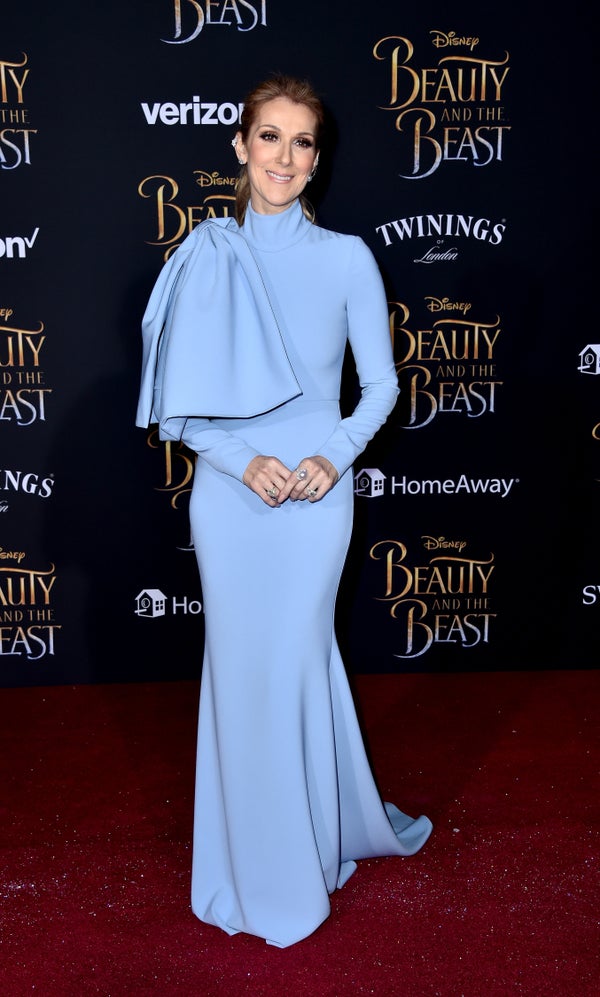 Photo credit: Frazer Harrison via Getty Images
Celine stole the show on the red carpet at the film premiere in this lovely, chic and feminine powder blue gown from Siriano's pre-fall 2017 collection. It was impeccably tailored and fit her well. And the oversize bow draped from the shoulder added just the right amount of drama – which we all know Celine does well.
Rihanna in Comme des Garçons
Met Gala – May
Photo credit: Neilson Barnard/Getty via usmagazine.com
Only Rihanna. One of the few people to actually wear Comme des Garçons at the MET Gala this year, the star shut down the red carpet (as usual) when she showed up in a look straight off the Fall 2016 runway. When Rihanna shows up at the Met Gala, it's hard to pay attention to anyone else. Fashion lovers wondered how she'd ever top her legendary look at the 2015 Met Gala (in Gui Pei) and she succeeded.
Cara Delevingne in Chanel Couture
Met Gala – May
Photo credit: John Shearer/Getty
This crystal-embroidered pantsuit on the top model-turned-actress is incredible. From the Spring 2017 couture collection, this is Chanel at its finest. Look at the detail and craftsmanship. The painted silver hair was also fun and suited her. This is the kind of piece that will be in a museum one day.
Julianne Moore in Raf Simons for Calvin Klein
Met Gala – May
Photo credit: George Pimentel/WireImage
A stunning cocktail dress. It's also fun and flirty. Joan Collins (as Alexis Carrington) would have worn this dress so naturally I loved it. And don't get me started on her totally gorgeous (and super fancy) Chopard diamond and orange sapphire drop earrings – perfect with the dress and one of the best pairs of earrings of 2017.
Celine Dion in Stephan Rolland Haute Couture
Billboard Music Awards – May
Photo credit: REX via telegraph.co.uk
How can one not love this outstanding and dramatic angelic look designed by Stephan Rolland Haute Couture?! It's legendary and people (us gays) practically cheered when they saw her perform on stage in this gorgeous look. Celine's new-found fashion icon status was a welcome happy addition to 2017.
Nicole Kidman in Chanel Couture
Cannes Film Festival – May
Photo credit: Dominique Charriau/WireImage
As expected, Kidman was the one to watch this year at Cannes. Every outfit she wore was incredible, thanks to her talented stylist, Julia von Boehm (can you imagine having that job?!). This unbelievable Chanel Couture dress with a feathered skirt and black sequin bodice was especially amazing. Styled impeccably, this was my favourite dress this year at Cannes and one of Kidman's best red carpet looks ever.
Nicole Kidman in Calvin Klein by Appointment
Cannes Film Festival – May
Photo credit: Graham Whitby Boot/startraksphoto.com
Another winning look of Nicole's at Cannes. This timeless tea length white tulle skirt made for another epic red carpet moment. Apparently it took 150 hours and an astounding 180 yards of silk tulle to make this dress. The deco-inspired heels were especially cool and added the perfect modern touch.

Nicole Kidman in Rodarte
Cannes Film Festival – May

Kidman ended her reign at Cannes in this silver sequin and ruffled embellished top and skirt. The look had a very Chanel Couture vibe, not to mention something one would have seen on a socialite in New York in the 1920s (the Guilded Age), when wealthy New Yorkers spent their summers at their mansions in Newport. SO FANCY.
Tracee Ellis Ross in Jenny Packham
Cannes Film Festival – May

Ellis Ross and her stylist are thoughtful in her style choices. Like, how amazing was this red sequin gown with feathered sleeves?! A clever tribute to her mom, Diana Ross, it also looked surprisingly comfortable. And the strong red lips couldn't be better. More women should do red lips like this. They just make sense.
Cindy Crawford in Givenchy
Omega Event – September
Photo credit: via okmagazine.ro
Cindy once again looked incredible and ageless in this rose gold long sleeve knee-length sequin dress. It was modern and styled flawlessly with simple jewels and those super chic Stella Luna 'Indispensable' gold ankle-strap pumps. Oh – and she's turning 52 next month! She's a true fashion legend.

Jane Fonda in Brandon Maxwell
Emmys – September

Fonda was 79 when she appeared at the Emmys this year. SEVENTY NINE! When your Jane Fonda, this is what almost 80 looks like. Only she could rock a ponytail like this. Apparently it was her hairdressers idea, and she was like, "ya sure, do your thing." The youthful look was accessorized with a three-piece jewelry set from Gismondi 1754 and included a $1.75 million necklace (worn backwards) and emerald and diamond chandelier earrings. Interesting jewelry fact: it took 10 artisans more than 600 hours to create the set (named the "Rugiada" collection).
Zoe Kravitz in Dior Haute Couture
This rainbow feathered gown was unbelievably beautiful. And very couture-looking. Kravitz became one to watch on the red carpet this year, as you can see with this intricate and unique gown. She gives a little edge to everything she wears and couldn't have suited this colourful look better.
Tracee Ellis Ross in Chanel Haute Couture
Emmys – September
Photo credit: Jordon Strauss/Invision/AP via people.com
Time after time, Ellis Ross owned her red carpet looks this year. This Chanel gown is true couture. I loved it on the runway at 
the Chanel Couture show in January
 and I love it even more on Ross.

Sarah Paulson in Carolina Herrera
Emmys – September
Paulson's another one I love to watch on the red carpet. She always looks confident and in control. Similar to Tracee Ellis Ross's couture look above, Paulson nailed it in the silver sequin gown with dramatic shoulders which was straight off the Spring 2018 runway. The whole look had a Dynasty-vibe (my favourite era). Those beautiful diamond drop earrings were the right choice for such a chic and glamorous dress.
Gabrielle Union in Zuhair Murad
Hands down the best Union has ever looked on the red carpet. It was sheer and sexy but also elegant at the same time. And loved the pulled back hair parted in the middle with natural curls. Everything about this was fashion perfection.
Rosamund Pike in Alexander McQueen
A+. Incredible. An absolutely stunning dress. You can't argue with this look. It's PERFECT. And expensive looking. The dark red lips and minimal accessories were a wise choice for a dress as detailed and intricate as this. So beautiful and chic. Best look this year at TIFF.

Cindy Crawford & Naomi Campbell in Versace
Vogue Italia Party – September
Photo credit: via celebmafia.com
How could I not include my two favourite iconic supermodels arm-in-arm at the Vogue Italia party, after the unforgettable supermodel reunion at Donatella Versace's epic Versace tribute show during Milan Fashion Week. The two legendary models looked as stunning as ever in Gianni Versace's gold lamé dresses made famous in the late 90s. LOOK AT THEM! I had the chance to meet Cindy in October and it's 100% true what people say about her, she's more beautiful in person than in photos. So nice too!
Tracee Ellis Ross in Stella McCartney
American Music Awards – November
Photo credit: Steve Granitz/Getty via instyle.com
Ending this year's most memorable red carpet looks with Ellis Ross at the American Music Awards. She owned this sexy and sleek sequined maroon Stella McCartney gown with a high slit up the thigh. What makes this dress especially cool is the red piping trim and red lining – an unexpected pairing with maroon but it worked well. Also loved her natural curls and strong red lips.
That's a wrap for 2017. Looking forward to the many exciting fashion moments to come this year. Happy New Year!